Alkaline Phosphatase 60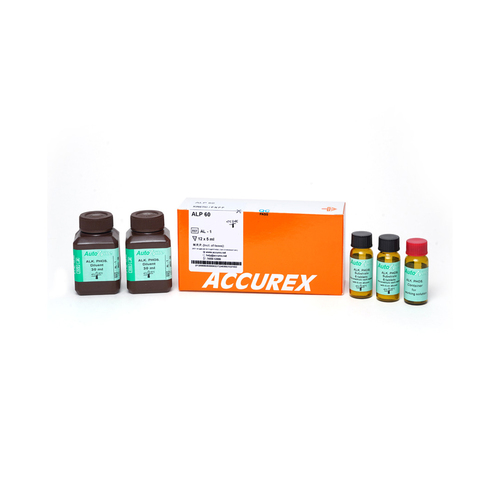 Alkaline Phosphatase 60
Price And Quantity
Product Specifications
Industrial

Industrial Lab Chemicals
Product Description
INTRODUCTION
Auto Zyme Alkaline Phosphatase is a reagent set for determination of Alkaline Phosphatase activity based on kinetic method using p-nitrophenyl phosphate (p-NPP).
Auto Zyme Alkaline Phosphatase is a single reagent system, using one step procedure.
Auto Zyme Alkaline Phosphatase has one step reconstitution. It involves dissolving Substrate tablet in Diluent.
Auto Zyme Alkaline Phosphatase is a High Stability Reagent.
Auto Zyme Alkaline Phosphatase is linear up to 700 IU/I.
Alkaline Phosphatase activity can be determined in just 21/2 minutes.
Auto Zyme Alkaline Phosphatase can be used on any Spectrophotometer, Discrete semiautomated and Automated analyzer. Programmed can be designed for any specific analyzer upon request.
PRINCIPLE

Alkaline Phosphatase cleaves p-nitrophenyl phosphate (p-NPP) into p-nitrophenol and phosphate. p-nitrophenol is a yellow colour compound in alkaline medium and absorbs light at 405 nm. The rate of increase in absorbance at 405 nm. is proportional to Alkaline phosphatase activity in specimen.
PREPARATION OF WORKING SOLUTION
Reconstitute each substrate tablet with diluent as per the instruction indicated on the substrate bottle.
REAGENT STORAGE & STABILITY
The reagent kit is stable till the expiry date stated on the label, when stored at 2 - 8 degree C.
The working solution is stable for 21 days at 2- 8 degree C.
The working solution should be prepared and stored in the dark (working solution bottle) provided. This is critical because the reagent is light sensitive. It should therefore be kept away from direct light.
COMPONENTS & CONCENTRATION OF WORKING SOLUTION
| | |
| --- | --- |
| Component | Concentration |
| Diethanolamine buffer, pH 9.8 | 1 moll |
| p-nitrophenyl phosphate | 10 mmolll |
| Magnesium chloride | 0.5 mmolll |
SPECIMEN COLLECTION & PRESERVATION
Blood should be collected in a clean dry container. Haemolyzed specimen should be avoided as it may falsely elevate results. EDTA, Citrate and Oxalate inhibit Alkaline Phosphatase activity and should not be used as anticoagulant.
For plasma separation any of the following two anticoagulants may be used :
HEPARIN

200 Uml blood
SODIUM FLUORIDE

10 mg/ml blood
Serum / plasma should be separated immediately from cells. Alkaline Phosphatase is stable for 4 days at 2 - 8 degree C and several months when stored at -10 degreeC
PROCEDURE
Reaction type: Kinetic
Reaction direction: Up
Wavelength: 405 nm.
Flowcell temperature: 37 degree C (+/- 0.2 degree C)
Zero setting with :Working Solution
Delay time:60 seconds
No. of readings :4
Interval: 30 seconds
Blank absorbance limit: 0.700 Abs.
Sample volume: 0.02 ml (20 ill )
Reagent volume: 1.0 ml
Factor: 2720
Linearity: 700 IU/1
Prewarm the required amount of working solution at the required
Temperature 37 degree C before use. Perform the assay as given below :
1.0 ml procedure
| | |
| --- | --- |
| Serum/Plasma | 0.02 ml (20 pi ) |
| Working Solution | 1.0 ml |
Mix thoroughly and transfer the assay mixture immediately to the thermo stated cuvette and start the stop watch simultaneously. Record the first reading at 60th second and subsequently, three more readings with 30 seconds interval at 405 nm.
Conversion factors
Following factors can be used for conversion of IU/1 from one temperature to another.
Temperature Conversion
Temperature of

Temperature factors

assay

25 degree C

30 degree C

37 degree C

25 degree C

1.0

1.30

1.80

30 degree C

0.75

1.0

1.35

37 degree C

0.55

0.74

1.0
EXPECTED VALUES
| | | | |
| --- | --- | --- | --- |
| | 25 degree C | 30 degree C | 37 degree C |
| ADULT | | | |
| (> 15 years) IU/1 CHILD | 60-170 | 78-220 | 108-306 |
| (< 15 years) IU/1 | 150-450 | 195-585 | 210-810 |
These expected values should be used as a guide only. It is recommended that each laboratory should establish its own expected values.
PROCEDURE LIMITATIONS
The working solution is considered unsatisfactory and should not be used if the absorbance exceeds 0.700 at 405 nm. against distilled water.
If the A Abs./min exceeds 0.250, the specimen should be diluted 10 times (0.1 ml serum + 0.9 ml saline) and reassayed. Multiply the result obtained by 10.
QUALITY CONTROL
To ensure adequate quality control, it is recommended that each batch should include a normal and abnormal commercial reference control serum. It should be realised that the use of quality control material checks both instrument and reagent functions together. Factors which might affect the performance of this test include proper instrument function, temperature control, cleanliness of glassware and accuracy of pipetting.
Trade Information
packaging : Empity

Australia, North America, South America, Eastern Europe, Western Europe, Middle East, Africa, Central America, Asia
All India

certification : iso
Contact Us
212, Udyog Mandir No. 17/C, Bhagoji Keer Marg, Mahim, Mumbai, Maharashtra, 400016, India
Phone :08045479256