Autopure T HDL Cholestrol Calibrator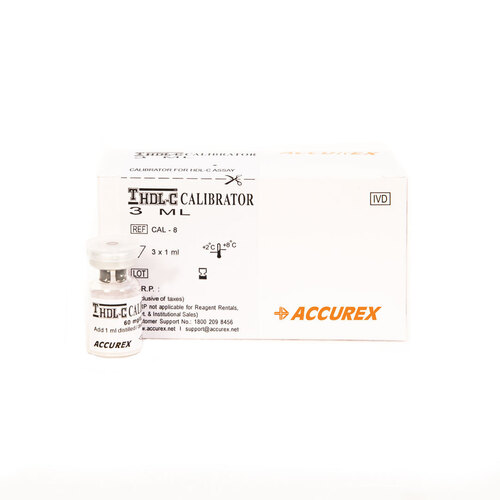 Autopure T HDL Cholestrol Calibrator
Price And Quantity
Product Specifications
20 minutes. Dissolve the contents of the vial by swirling gently to avoid the formation of foam. Do not shake. Reconstituted T HDL-C Calibrator is stable for 14 days at 2 -8 degree C. Reconstitution stability of the calibrator may be extended upto 28 days by aliquoting and freezing the reconstituted calibrator preparation at less than -80 degree C.

Other
Biochemistry Reagent

Biochemistry Reagent
ACC9056

Biochemistry Reagent
Product Description
Introduction
T HDL-C Calibrator is intended to be used for the calibration of HDL-C assay.
Calibrator Storage, Stability & Handling Shelf - Life
Unopened calibrator is stable when stored at 2 - 8 degree C until the expiration date printed on the vial label.
Preparation of Calibrator & Stability
Lyophilized serum T HDL-C Calibrator should be reconstituted by adding 1.0 ml of distilled or deionized water. Close the vial and let stand for 20 minutes. Dissolve the contents of the vial by swirling gently to avoid the formation of foam. Do not shake. Reconstituted T HDL-C Calibrator is stable for 14 days at 2 -8 degree C. Reconstitution stability of the calibrator may be extended upto 28 days by aliquoting and freezing the reconstituted calibrator preparation at less than -80 degree C.
The calibrator concentration is printed on the vial label.
Indications of Deterioration
Presence of extreme turbidity or microbial growth may indicate deterioration.
T HDL-C Calibrator is a preparation of lyophilized human serum containing lipoproteins from the various lipoprotein classes including high-density lipoproteins.
The calibrator should be used to analyze patient samples in accordance with the instructions outlined in Accurex T HDL-C Reagent package insert.
The value of T HDL-C Calibrator is assigned by procedures traceable to the National Reference System for Cholesterol (NRS/CHOL). Calibration materials have concentrations around the medical decision level.
Refer to the instrument manufacturer's recommendation for calibration frequency.
Precautions & Warnings
For in vitro diagnostic use.
Do not pipette by mouth.
3Human material used in the preparation of this product has been tested and found nonreactive for the presence of HBsAg, HCV and antibody to HIV 1/2. However, all human-based products shoud still be handled in accordance with good laboratory practices using appropriate precautions to avoid transmission of any infectious diseases.
Do not use the calibrator after the expiration date printed on the box.
5Sodium azide at a concentration of 0.1% has been added to T HDL-C Calibrator as an antibacterial agent. Sodium azide may react with lead and copper plumbing to form potentially explosive metal azide buildup.
Trade Information
2 Days

Free samples available with shipping and taxes paid by the buyer
Empity

Australia, North America, South America, Eastern Europe, Western Europe, Middle East, Africa, Central America, Asia
Contact Us
212, Udyog Mandir No. 17/C, Bhagoji Keer Marg, Mahim, Mumbai, Maharashtra, 400016, India
Phone :+918045479256