BUN 250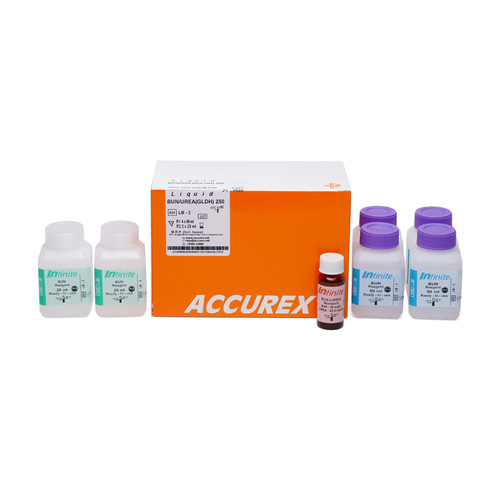 BUN 250
Price And Quantity
Product Specifications
other

Biochemistry Reagent
Infinite Liquid BUN is aready-to-use, two liquid reagent system. Infinite Liquid BUN estimates urea nitrogen concentration in just 1 minute. Infinite Liquid BUN is linear upto 250 mg/dl.

Other
Biochemistry Reagent

18 Months
Industrial Lab Chemicals

99%
Product Description
Infinite Liquid BUN is a reagent set for determination of blood urea nitrogen (BUN) concentration in serum or plasma based on Enzymatic UV- Kinetic initial rate method.
Infinite Liquid BUN is aready-to-use, two liquid reagent system.
Infinite Liquid BUN estimates urea nitrogen concentration in just 1 minute.
Infinite Liquid BUN is linear upto 250 mg/dl.
Infinite Liquid BUN can be used on any Spectrophotometer, Discrete Semiautomated and Automated analyzers. Programme can be designed for any specific analyzer upon request.
finite Liquid BUN is stable till expiry at 2 - 8C.
Urea is hydrolysed to ammonia and carbondioxide by urease. Ammonia produced reacts with a-ketoglutarate to form glutamate in presence of glutamate dehydrogenase. NADH is oxidised to NAD in this reaction, which is measured as decrease in absorbance at 340 nm. The rate of decrease in absorbance at 340 nm. is directly proportional to BUN concentration in the specimen.
Urea + H,O- 2nH, + CO,
GLDH
NH, + a-ketoglutarate + NADH -glutamate + NAD
Abbreviations
GLDH - Glutamate dehydrogenase
REAGENT STORAGE & STABILITY
The reagent kit should be stored at 2 - 8 C and is stable till the expiry date indicated on the label.
R, and R, reagents are stable till expiry at 2 - 8C.
The working solution (4 R, + 1 R,) is stable for 30 days at 2 - 8 C.
COMPONENTS & CONCENTRATION OF WORKING SOLUTION
| | |
| --- | --- |
| Component | Concentration |
| Tris buffer, pH 7.6 | 120 mmol/l |
| Urease | 20 KU/l |
| Glutamate dehydrogenase | 1 KU/I |
| NADH | 0.25 mmoll/| |
| ketoglutarate | 10 mmol/l |
PROCEDURE
Reaction type : UV-Kinetic
Reaction direction: Decreasing
Wavelength : 340 nm
Flowcell temperature: .25 Degree C/30 Degree C
Zero setting with: Distilled water
Delay time: 300 seconds
No. of readings: 2
Interval : 30 seconds
Sample volume: 1.000 Abs
R 1 volume: 360 Ul
R 2 volume: 180 Ul
Factor: 1743
Linearity: 250mg /dl
MANUAL ASSAY PROCEDURE .
Prewarm at 25Degree C / 30 Degree C the required amount of working solution before use. Perform the assay as given below : Working solution: 1.0 mi (800 U1 R, + 200 LI R,) Mix and aspirate. After the initial delay of 30 seconds, record the absorbance of the test at an interval of 30 seconds at 340 nm.
Determine the change in absorbance ( A Abs.) and calculate test result.
Serum / Plasma
Expected Values
Urea Nitrogen (BUN) : 5-21 mg/dl
Expected range varies from population to population. It is therefore recommended that each laboratory should establish its own normal range.
Trade Information
packaging : Empity

Australia, North America, Eastern Europe, Western Europe, Central America, Middle East, South America, Asia, Africa
All India

certification : iso
Contact Us
212, Udyog Mandir No. 17/C, Bhagoji Keer Marg, Mahim, Mumbai, Maharashtra, 400016, India
Phone :+918045479256