GOT (AST) 220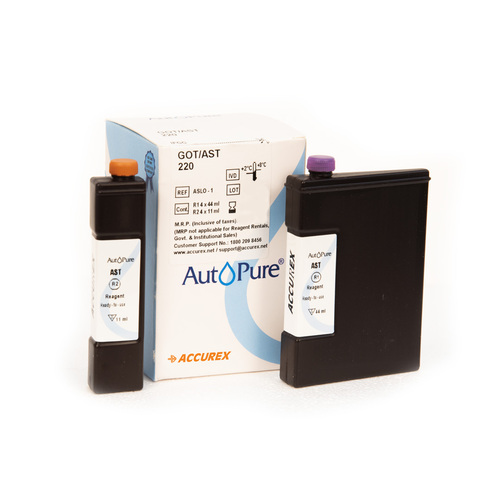 GOT (AST) 220
Price And Quantity
Product Specifications
Other

AutoPure AST GOT is a ready to use two liquid reagent system With AutoPure AST GOT the assay is linear upto 800 IUI 1336 ukatI
18 Months

Biochemistry Reagent
other

Biochemistry Reagent
Industrial Lab Chemicals

99%
Product Description
Introduction
AutoPure AST GOT is a reagent kit for direct quantitative determination of aspartate transaminase AST in human serum and plasma on automated
clinical chemistry analyzers
AutoPure AST GOT is a ready to use two liquid reagent system
With AutoPure AST GOT the assay is linear upto 800 IUI 1336 ukatI
Principle
Ketoglutarate reacts with L aspartate in the presence of AST GOT to form oxaloacetate and L glutamate
Ketoglutarate Laspartate oxaloacetate L glutamate
The increase in oxaloacetate is determined in an indicator reaction catalyzed by malate dehydrogenas oxaloacetate NADH H Lmalate NAD
The conversion of NADH to NAD is proportional to the AST GOT activity in the specimen and is determined kinetically
Reagent Storage Stability Handling
AutoPure AST GOT is a ready to use two liquid reagent system
Shelf Life
Stable till the expiry date indicated on the label when stored at 20 80C
On - Board Reagent Stability
R1 30 days at 20 - 80 C after opening. Protect the reagent from light andcontamination.
R2 30 days at 20 - 80 C after opening. Protect the reagent from light and contamination.
Do not freeze the reagent
Specimen Collection & Preservation
Collect sample using standard sampling tube. Although serum is preferred, heparinized plasma or EDTA plasma can also be used. Specimen with any visible haemolysis is not acceptable, since erythrocytes contain approximately ten times the normal concentration of AST (GOT) found in serum. AST (GOT) in serum plasma is stable for 7 days at 20 - 80C and for 30 days at -100C. Centrifuge samples containing precipitate before performing assay
Calculations
Fully automated systems automatically calculate the AST (GOT) activity of each sample.
Results in ukat/l = Results in IU/I x 0.0167
Application Sheets
Application sheets for the popular fully automated analyzers are provided along with the kit. For additional system applications, contact our local Accurex representative.
Calibration
Determine the factor using a calibrator. For calibration, it is recommended to use C.f.a.s.or any other suitable calibrator material
Calibration frequency :
Re calibration is recommended
Whenever the reagent lot is changed
As per the requirements of quality control procedures
Quality Control
Each batch of AutoPure AST (GOT) is assayed with at least six quality control sera Precinorm, Precipath Biorad l Biorad II, Sero Low and Sero High prior to release
To ensure adequate quality control, it is recommended that the laboratory should use a normal and an abnormal commercial reference control serum. It should be realized that the use of quality control material checks both reagent and instrument functions together. The value of these controls should fall within the specified limits. If control values fall outside specified limits, each of the below criteria should be cross-checked and corrected :
Proper instrument function wavelength setting, light source and temperature control
Cleanliness of probes & cuvettes
Bacterial contamination of wash water used by the instrument
Expiry date of the reagent kit.
Expected Values
Serum/Plasma
| | | | | |
| --- | --- | --- | --- | --- |
| | | 25 C | 30 C | 37 C |
| IU/I | Men | Upto 18 | Upto 25 | Upto 37 |
| | Women | Upto 15 | Upto 21 | Upto 31 |
| ukat/l | Men | Upto 0.30 | Upto 0.42 | Upto 0.62 |
| | Women | Upto 0.25 | Upto 0.35 | Upto 0.52 |
The following factors are used for conversion :
From 370 C to 300 C : 0.67
From 370 C to 250 C : 0.49
Note :
Expected range varies from population to population. It is therefore recommended that each laboratory should establish its own normal range. For diagnostic purposes, the AST (GOT) results should always be assessed in conjunction with the patient s medical history, clinical examinations and other findings.
Performance Characteristics
Linearity
With AutoPure AST (GOT), the assay is linear upto 800 IU/I (13.36 ukat/l). Determine samples with higher concentrations via the rerun function. On instruments without rerun function, manually dilute samples with higher concentrations using 0.9 NaCl or distilled / deionized water (e.g. 1 + 2). Multiply the result by the appropriate dilution factor (e.g. 3).
Interference
There is no significant interference in samples containing upto 60 mg/dl of bilirubin. Haemolysis interferes due to AST activity from erythrocytes.
Precision
Reproducibility was determined using quality control sera as shown below:

Within run

Between run

Quality control material

Means 1U/1

sd 1U/1

CV

Means 1U/1

sd 1U/1

CV

low control serum

37

1.29

3.5

37

1.27

3.5

high control serum

162

2.21

1.4

158

2.83

1.8
Co-Relation Studies
A comparison of AST (GOT) determination using AutoPure AST (GOT) and AutoZyme SGOT reagent gave the following co-relation (IU/I):
Linear Regression
y = -0.114 + 1.011x
r = 0.986
Sy.x = 1.88
No. of samples measured : 58
The sample concentrations measured were between 15 and 65 IU/I
References
Tietz NW ed Clinical Guide to Laboratory Tests 3rd ed Philadelphia Pa WB Saunders 1995 76 77
Bergmeyer HU Horder M Rej R Approved recommendation 1985 on IFCC methods for the measurement of catalytical concentration of enzymes Part 3 IFCC method for L aspartate aminotransferase J Clin Chem Clin Biochem 1986 24 497 510
Fischbach F Zawta B Age depending Reference Limits of Several Enzymes in plasma at Different Measuring Temperatures Klin Lab 1992 38555 561
Penttila IM et al Scand J Clin Lab Invest 35 275 1975
Hafkenshelid JCM et al J Clin Chem Clin Biochem 17 219 1979
Inhouse test data Accurex Biomedical Pvt Ltd 2002
Trade Information
EXW ABPL

Paypal, Cash Against Delivery (CAD), Cash in Advance (CID), Cheque, Letter of Credit (L/C), Letter of Credit at Sight (Sight L/C)
Asia, Australia, Central America, North America, South America, Eastern Europe, Western Europe, Middle East, Africa

All India
Contact Us
212, Udyog Mandir No. 17/C, Bhagoji Keer Marg, Mahim, Mumbai, Maharashtra, 400016, India
Phone :+918045479256