GOT (AST) 50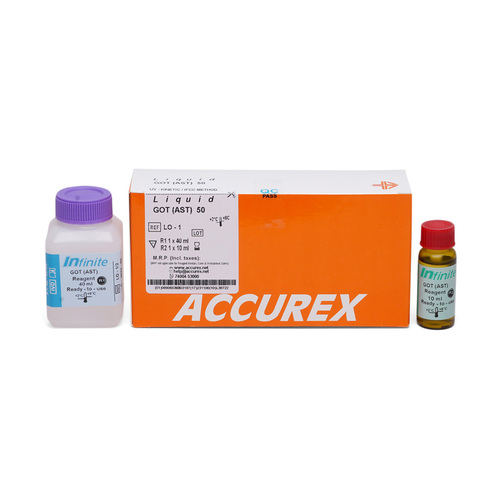 GOT (AST) 50
Price And Quantity
Product Specifications
Infinite Liquid GOT (AST) is linear up to 800 IU/1. Infinite Liquid GOT (AST) can be used on any Spectrophotometer, Discrete semiautomated and Automated analyzers. Programmed can be designed for any specific analyzer upon request

Liquid
Biochemistry reagent

18 Months
other

Biochemistry reagent
Industrial Lab Chemicals

99%
Product Description
INTRODUCTION
Infinite Liquid GOT (AST) is a reagent set for determination of GOT (AST) activity in serum and plasma based on UV - Kinetic method.
Infinite Liquid GOT (AST) is a ready-to-use, two liquid reagent system.
Infinite Liquid GOT (AST) estimates GOT (AST) activity in just 2 1/2 minutes.
Infinite Liquid GOT (AST) is linear up to 800 IU/1.
Infinite Liquid GOT (AST) can be used on any Spectrophotometer, Discrete semiautomated and Automated analyzers. Programmed can be designed for any specific analyzer upon request.
Infinite Liquid GOT (AST) is stable till expiry at 2- 8 Degree C.
A- ketoglutarate reacts with L-aspartate in presence of GOT (AST) to form oxaloacetate and L-glutamate. The increase in oxaloacetate is determined in an indicator reaction catalyzed by malate dehydrogenase. The conversion of NADH to NAD+ at 340 nm. is proportional to the activity of GOT (AST) in serum/plasma and is determined kinetically as rate of decrease in absorbance
Abbreviations
AST: Aspartate transaminase
GOT: Glutamate oxaloacetate transaminase
PREPARATION OF WORKING SOLUTION
Prepare working solution by mixing Reagent R1 and Reagent R2 in the ratio 4: 1 as per requirement.
REAGENT STORAGE STABILITY
The reagent kit should be stored at 2- 8 Degree C and is stable till the expiry date indicated on the label.
R1 and R2 reagents are stable till expiry at 2 -8 Degree C.
The working solution (4 R1 + 1 R) is stable for 30 days at 2-8 Degree C.
COMPONENTS & CONCENTRATION OF WORKING SOLUTION
| | |
| --- | --- |
| Component | Concentration |
| Tris buffer, pH 7.8 | 80 mmol/I |
| L-aspartate | 240 mmol/1 |
| Lactate dehydrogenase | 3000 IU/1 |
| Malate dehydrogenase | 400 IU/1 |
| NADH | 0.23 rnmol/1 |
| a- ketoglutarate | 10 mmol/1 |
SPECIMEN COLLECTION & PRESERVATION
Blood should be collected in a clean dry container. Although serum is preferred, plasma with heparin or EDTA can be used. Samples with any visible haemolysis are not acceptable since erythrocytes contain approximately ten times the normal activity of GOT (AST) found in serum. GOT (AST) activity in serum/plasma is stable for 1 week at 2 - 8 Degree C and Expected range varies from population to population. It is therefore recommended that each laboratory should establish its own normal range.
PROCEDURE
Reaction type : UV - Kinetic
Reaction direction: Decreasing
Wavelength : 340 nm.
Flowce temperature: 37 degree C
Zero setting with: Distilled water
Delay time : 60 seconds
No. of readings: 4
Interval

30 seconds
Blank absorbance limit

: 0.900 Abs.
Sample volume

0.05 ml (50 uI)
D Working solution volume (4 R1 : 1 R2) 1.0 ml (1000I) D Factor 3339
Linearity

: 800 IU/1
MANUAL ASSAY PROCEDURE
Prewarm at 37 Degree C the required amount of working solution before use. Perform the assay as given below:
1 ml procedure

Serum/plasma: 0.05 ml
Working solution: 1.0 ml (800 ut R + 200 uI R )
Mix and aspirate. After the initial delay of 60 seconds, record the absorbance of the test at an interval of 30 seconds for the next 90 seconds at 340 nm. Determine the mean change in absorbance per minute and calculate test results.
Calculation:
Activity of GOT (AST) in lU/1 A Abs J min. x 3339
Conversion factors :
Following factors can be used for conversion of IU/1 from one temperature to another:
Temperature Conversion
From 37 Degree C to 30 Degree C : 0.67
From 37 Degree C to 25 Degree C : 0.49
EXPECTED VALUES
| | | | |
| --- | --- | --- | --- |
| Temperature | At 25 degree C | At 30 degree C | At 37 degree C |
| MEN | 18 IU/1 | 25 IU/1 | 37 IU/1 |
| WOMEN | 15 IU/1 | 21 IU/1 | 31 IU/1 |
PROCEDURE LIMITATIONS
If the GOT (AST) activity exceeds 800 IU/1, dilute the specimen with normal saline and repeat the assay. The result obtained should then be multiplied with the dilution factor to obtain correct GOT (AST) activity.
The working solution is considered unsatisfactory and should not be used if the absorbance is less than 0.900 at 340 nm. against distilled water.
QUALITY CONTROL
To ensure adequate quality control, it is recommended that each batch should include normal and an abnormal commercial reference control serum. It should be realised that the use of quality control material checks both instrument and reagent functions together. Factors which might affect the performance of this test include proper instrument function, temperature control, cleanliness of glassware and accuracy of pipetting.
Trade Information
EXW ABPL

Paypal, Cash Against Delivery (CAD), Cash in Advance (CID), Cheque, Letter of Credit (L/C), Letter of Credit at Sight (Sight L/C)
Asia, Australia, Central America, North America, South America, Eastern Europe, Western Europe, Middle East, Africa

All India
Contact Us
212, Udyog Mandir No. 17/C, Bhagoji Keer Marg, Mahim, Mumbai, Maharashtra, 400016, India
Phone :+918045479256