HDL Cholestrol 100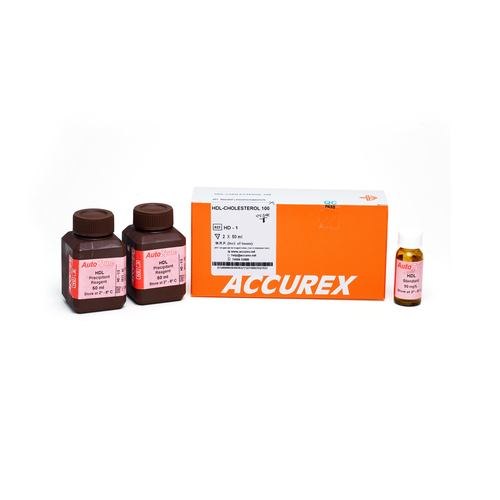 HDL Cholestrol 100
Price And Quantity
Product Specifications
Industrial

Industrial Lab Chemicals
Product Description
INTRODUCTION
Auto Zyme HDL-Cholesterol Precipitating Reagent is for use in conjunction with Auto Zyme Cholesterol Reagent - for enzymatic determination of HDL-Cholesterol in serum or plasma.
Compared to the conventional Ultra-centrifugation method, the precipitation method is simple and time saving; particularly when combined with single-step enzymatic Auto Zyme Cholesterol reagent.
Phosphotungstate/Mg2+ precipitates chylomicrons, LDL and VLDL fractions. High Density Lipoprotein (HDL) fraction remains un effected in supernatant. Cholesterol content of HDL fraction is assayed using Auto Zyme Cholesterol.
PREPARATION OF WORKING SOLUTION
HDL - Cholesterol Precipitating Reagent is ready-to-use as supplied
COMPONENTS & CONCENTRATION OF PRECIPITATING REAGENT
| | |
| --- | --- |
| Component | Concentration |
| Phosphotungstic acid | 2.4 mmo1/1 |
| Magnesium Chloride | 40 mmo1/1 |
SPECIMEN COLLECTION & PRESERVATION
Blood should be collected in a clean dry container. Fasting blood is preferred for HDL-Cholesterol assay.
Plasma should be separated immediately from the cells. For plasma separation any of the following anticoagulants may be used:
EDTA

10 mg/ml blood
HEPARIN

200 Um blood
HDL-Cholesterol value is stable in serum for 24 hours at 2-8 degree C and 30 days
PROCEDURE
HDL separation
Prewarm at room temperature (25 - 30 degree C) the required amount of Precipitating Reagent and Auto Zyme Cholesterol working solution before use.
Perform the assay as given below.
Pipette as follows :
Serum/plasma: 0.5 ml
HDL-Precipitating reagent: 0.5 ml
Mix thoroughly and centrifuge at 4000 r.p.m. for 10 minutes in a common laboratory centrifuge (1800 x g) to obtain a clear supernatant.
HDL-Cholesterol determination
Reaction type: End-Point
Reaction time: 10 mins. at 37 degree C130 mins. at R.T. (25-30 degree C)
Wavelength: 510 nm. (505-530 nm.)
Zero setting with

: Reagent Blank
Blank absorbance limit: 0.100 Abs.
Sample volume: 0.05 m1(50 gl)
Reagent volume : 1.0 ml
Standard concentration: 50 mg%
Linearity: 400 mg%
Assay the supernatant for HDL-Cholesterol within 2 hours after centrifugation using working solution of Auto Zyme Cholesterol Reagent.
Incubation
Incubate the assay mixture for 10 minutes at 37 degree C or 30 minutes at room temperature (25-30 degree C). After completion of the incubation, measure the absorbance of assay mixture against blank at 510 nm. Final colour is stable for two hours, if not exposed to direct light.
EXPECTED VALUES
30 - 70 mg%
CLINICAL SIGNIFICANCE
OF HDL - CHOLESTEROL
HDL - Cholesterol values below 30 mg% indicate towards the risk factor. The clinical risk factor is better represented by the ratio of Total Cholesterol to HDL Cholesterol in case of heart ailments.
Risk Factor

Total Chol. / HDL Chol

Female

Male

Average x 0.5

3.3

3.4

Average x 1.0

4.5

5.0

Average x 2.0

7.0

9.6

Average x 3.0

11.0

24.0
Clinical interpretation
Criteria for the treatment of lipid disorders :
Treatment required

No

Depending on the
HDL and / or LDL
Cholesterol level

Yes

Total Cholesterol' (mg/100 ml )

< 200

200 - 300

Triglycerides (mg/100 ml )

< 200

> 200

Treatment required

No

Yes

HDL Cholesterol' (mg/100 ml )

> 35

< 35

LDL Cholesterol 2 (mg/100 ml )

< 150

> 190
QUALITY CONTROL
To ensure adequate quality control, it is recommended that each batch should include a normal and an abnormal commercial reference control serum. It should be realized that the use of quality control material checks both instrument and reagent functions together. Factors which might effect the performance of this test include proper instrument function, temperature control, cleanliness of glassware and accuracy of pipetting.
Trade Information
EXW ABPL

Cash Against Delivery (CAD), Cash in Advance (CID), Cheque, Letter of Credit (L/C), Letter of Credit at Sight (Sight L/C)
Asia, Australia, Central America, North America, South America, Eastern Europe, Western Europe, Middle East, Africa

certification : iso
Contact Us
212, Udyog Mandir No. 17/C, Bhagoji Keer Marg, Mahim, Mumbai, Maharashtra, 400016, India
Phone :+918045479256