LDL Cholesterol 240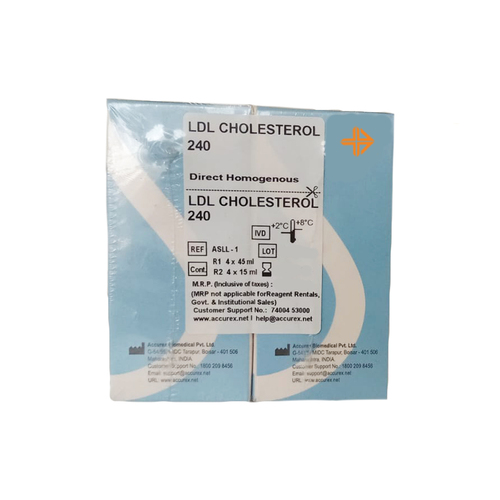 LDL Cholesterol 240
Price And Quantity
Product Specifications
Biochemistry Reagent

Liquid
Biochemistry Reagent

AutoPure HDL C is ready to use, two liquid reagent system. With AutoPure HDL C, the assay is linear upto 150 mg/dl (3.89 mmo1/1).
Industrial Lab Chemicals

95
Product Description
Introduction
AutoPure

HDL C is a reagent kit

for

direct quantitative determination of HDL-C in human serum and plasma on automated clinical chemistry analyzers.

AutoPure HDL C is ready to use, two liquid reagent system.

With AutoPure HDL C, the assay is linear upto 150 mg/dl

(3.89 mmo1/1).
Reagent Storage, Stability & Handling
AutoPure HDL C is ready to use, two liquid reagent system.
Shelf life
Stable till the expiry date indicated on the label, when stored at 2 -8 C.
On Board Reagent Stability
R1: 60 days at 2 - 8 C after opening
R2 : 60 days at 2 - 8 C after opening .
Protect the reagent from light and contamination.
Do not freeze the reagent.
Components & Concentration of Working Solution
Specimen Collection & Preservation
Collect sample using standard sampling tube. Serum, EDTA treated or sodium heparinized plasma are the recommended specimens. 12-14 hours fasting specimen is required.
Serum or plasma should not remain at 15 - 30 C longer than 14 hours. If assay is not completed within 14 hours, serum or plasma may be stored at 2 - 8 C upto 1 week. If the specimens need to be stored for more than a week, they may be preserved at less than -70 C upto 3 months.
Calculations
Fully automated system automatically calculates the HDL-C concentration of each sample.
Results in mmo1/1= Results in mg/di x 0.0259
Application Sheet
Refer to the application sheet for details. For additional system applications, contact our local Accurex representative.
Calibration
For calibration, it is recommended to use HDL-C calibrator from Accurex. Other commercially available HDL-C calibrators have not been tested with this assay and cannot be supported by Accurex Biomedical Pvt. Ltd. Refer to the HDL-C calibrator kit package insert for a description of assignment procedures and instructions. The value of HDL-C calibrator was assigned by procedures traceable to National Reference System for Cholesterol (NRS/CHOL). Calibration material have concentrations around medical decision level.
Calibration frequency
Re calibration is recommended
Whenever the reagent lot is changed.
As per the requirement of quality control procedures.
Quality Control
Each batch of AutoPure HDL-C is assayed with multiple quality control sera prior to release.
To ensure adequate quality control, it is recommended that the laboratory should use a normal and abnormal commercial reference control serum. It should be realized that the use of quality control material checks both the reagent and instrument functions together.
If the control values fall outside the specified limits, each of the below criteria should be cross - checked and corrected:
Proper instrument function wavelength setting, light source and temperature control.
Cleanliness of probes and cuvettes.
Bacterial contamination of wash water used by the instrument.
Expiry date of the reagent kit.
Expected Values
Serum/Plasma
Men : 30 - 70 mg/di
Women : 30 - 85 mg/dl
Note: Expected range varies from population to population. It is therefore recommended that each laboratory should establish its own normal range. According to NCEP, HDL-C values greater than or equal to 40 mg/dl are considered desirable and greater than or equal to 60 mg/dl are consider to offer some protection against coronary heart disease. Values below 40 mg/dl are considered to be a significant independent risk factor for coronary heart disease.
Performance Characteristics
Linearity
With AutoPure HDL-C, the assay is linear upto 150 mg/dl (3.89 mmo1/1). Determine samples with higher concentrations via the rerun function. On instruments without rerun function, manually dilute samples with higher concentrations using 0.9% NaCI or distilled/deionized water (e.g. 1 + 4). Multiply the result by the appropriate dilution factor (e.g. 5).
Interference
There is no significant interference in samples containing upto 60 mg/dl of conjugated and unconjugated bilirubin, 1800 mg/dl of triglycerides, 1000 mg/dl of haemoglobin, 100 mg/dl of ascorbic acid & 5000 mg/dl of gamma globulins.
Precision
Reproducibility was determined using three levels of pooled human sera as shown below:
Within run

Between run

Serum pool

Mean mg/dl

SD mg/dl

CV

Mean mg/dl

SD mg/dl

CV

low <40 mg/dl

32.9

0.3

0.8

32.8

0.4

1.3

mid (40- 59 mg/dl )

50.6

0.2

0.5

50

0.7

1.5

high (> 60 mg/dl )

101.4

0.7

0.7

100.1

1.1

1.1
Co - Relation Studies
A comparison of HDL-C determination using AutoPure HDL-C and the Designated Comparison Method (DCM) gave the following co-relation (mg/dl):
Linear Regression
No of samples measured : 52
References
Gotto, A.M. Lipoprotein Metabolism and the Etiology of hyperlipidemia. Hospital practice 1988; 23 Suppl. 1 4-13
Crouse J.R. et al. Studies of Low Density Lipoprotein molecular weight in human beings with coronary artery disese. J. Lipid. Res. 1985; 26:566.
Castelli, W. P. et al HDL Cholesterol and other lipids in the Coronary Heart Disease. Circulation 1977; 55:767
Barr, D.P. Russ, E.M. Eder, H.A. Protein lipid relationships in human plasma. Am J. Med. 1951; 11: 480.
Gordon, T. et al. high density lipoprotein as a protective factor against coronary heart disease. Am. J. Med.1977; 62:707
Williams, P., Robinson, D., Baily, A. high density lipoprotein and coronary risk factor. Lancet 1979; 1:72.
Kennel, W.B., Castelli, W.P., Gordon,T. Cholesterol in the prediction of arherosclerotic disease; New perspectives based on Framingham study. Ann, Intern. Med. 1979; 90:85.
National Institute of Health Publication No. 93, 3095, September (1993).
Tietz, N.W. Clinical Guide to Laboratory Tests, W.B. Saunders Co., Philadelphia, p. 256 (1986)
Special communication, Executive summary of the Third report of the National Cholesterol Education Program (NCEP) Expert panel on Detection, Evaluation and Treatment of High Blood Cholesterol inAdults (ATP III) JAMA 2001:285 (19): 2486:2497.
Trade Information
EXW ABPL

Paypal, Cash Against Delivery (CAD), Cash in Advance (CID), Cheque, Letter of Credit (L/C)
Asia, Australia, Central America, North America, South America, Eastern Europe, Western Europe, Middle East, Africa

All India
Contact Us
212, Udyog Mandir No. 17/C, Bhagoji Keer Marg, Mahim, Mumbai, Maharashtra, 400016, India
Phone :+918045479256