Triglyceride 50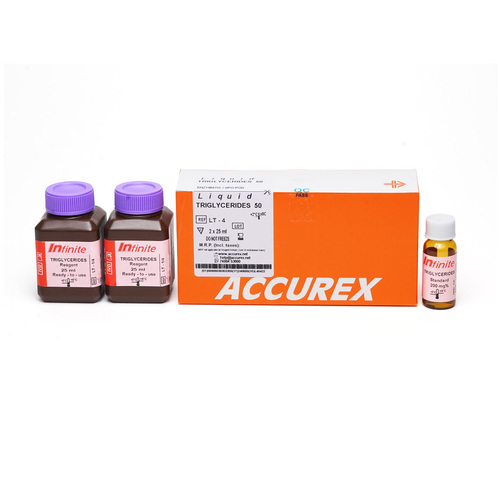 Triglyceride 50
Price And Quantity
Product Specifications
Biochemistry Reagent

Other
Triglycerides can be determined in just 10 minutes at 37 degree C or 20 minutes at R.T. (25 degree C - 30 degree C). Infinite Liquid Triglycerides is linear upto 800 mg%. Infinite Liquid Triglycerides can be used on any Colorimeter, Spectrophotometer, Discrete semiautomated and Automated analyzer. Programme can be designed for any specific analyzer upon request.

Biochemistry Reagent
Industrial Lab Chemicals

99%
Product Description
INTRODUCTION
Infinite Liquid Triglycerides is a reagent set for determination of triglycerides, based on enzymatic method using Lipoprotein lipase, Glycerol kinase, Glycerol phosphate oxidase and Peroxidase.
Infinite Liquid Triglycerides is a ready - to - use reagent.
Triglycerides can be determined in just 10 minutes at 37 degree C or 20 minutes at R.T. (25 degree C - 30 degree C).
Infinite Liquid Triglycerides is linear upto 800 mg%.
Infinite Liquid Triglycerides can be used on any Colorimeter, Spectrophotometer, Discrete semiautomated and Automated analyzer. Programme can be designed for any specific analyzer upon request.
The influence of lipids, haemolysis and bilirubin (upto 8 mg%) is negligible.
PRINCIPLE

Glycerol released from hydrolysis of triglycerides by lipoprotein lipase is converted by glycerol kinase into glycerol - 3 - phosphate which is oxidised by glycerol phosphate oxidase to dihydroxyacetone phosphate and hydrogen peroxide. In presence of peroxidase, hydrogen peroxide oxidizes phenolic chromogen to a red coloured compound.
REAGENT STORAGE, STABILITY & HANDLING
The kit should be stored at 2 - 8 degree G and is stable till the expiry date indicated on the label.
The reagent and standard are ready-to-use and are stable till expiry, when stored at 2 -8 degree C. DO NOT FREEZE THE REAGENT.
The reagent should be stored only in the amber bottle provided to protect it from direct light. Before use swirl in the reagent gently. DO NOT SHAKE VIGOROUSLY.
Overtime, the reagent may develop a light pink colour. This is expected and does not affect the reagent performance. Discard the reagent if the absorbance of the same exceeds 0.300 O.D. against distilled water at 510 nm.
Contamination of the reagent should be strictly avoided. Should the reagent develop turbidity discard the reagent.
COMPONENTS & CONCENTRATION OF WORKING SOLUTION
| | |
| --- | --- |
| Component | Concentration |
| Buffer, pH 7.2 | 50 mmol/I |
| Lipase | 2000 IU/I |
| Glycerol kinase | 300 IU/I |
| Glycerol phosphate oxidase | 1000 IU/I |
| Peroxidase | 500 IU/I |
| ATP | 1 mmol/I |
| Chromogen | 2 mmol/I |
NOTE :
The specimen to reagent ratio can be altered proportionally without affecting the results.
Falsely elevated results are obtained due to lipemic samples. The Liquid Triglycerides overcomes falsely elevated result with use of Lipid clearing agent in the reagent formulation. Lipid clearing agent clears up the turbidity caused by lipemic samples
SPECIMEN COLLECTION & PRESERVATION
Blood should be collected in a clean dry container. Avoid the use of plastic or siliconized container which may prolong clotting time. Serum or plasma should be separated from the cells at the earliest possible (within 30 minutes). For plasma collection following anticoagulants may be used.
EDTA

2 mg/ml of blood
CITRATE

6 mg/ml of blood
HEPARIN

200 IU/ml of blood
Avoid use of Oxalate and Sodium Fluoride as anticoagulant. Triglycerides are stable for 4 days in neatly separated serum or plasma at2-8 degree C.
PROCEDURE
Reaction type: End-Point
Reaction time: 10 mins. at 37 degree C/20 mins. at R.T. (25 -30 degree C)
Wavelength: 510 nm. (500 - 530 nm.)
Zero setting with: Reagent Blank
Blank absorbance limit: 0.300 Abs.
Sample volume : 0.01 ml (10 (If)
Reagent volume: 1.0 ml
Standard concentration: 200 mg%
Linearity: 800 mg/dl
Prewarm at room temperature (25-30 degree C) the required
Amount of reagent before use. Perform the assay as given below

1.0 ml procedure
Serum / Plasma

Standard

Blank

Reagent

0.01 ml

0.01 ml

1.0 ml

1.0 ml

1.0 ml
Incubation
Incubate the assay mixture for 10 minutes at 37 degree C or 20 minutes at
R.T. (25 -30 degree C). After incubation, measure the absorbance against blank at 510 nm. (500-530 nm.). Final colour is stable for 30 minutes if not exposed to direct light.
EXPECTED VALUES
Upto 170 mg%
NOTE :
Expected range varies from population to population therefore each laboratory should establish its own normal range.
PROCEDURE LIMITATIONS
If the triglycerides value exceeds 800 mg% dilute the specimen with saline(1:1 ratio) and repeat the assay. Multiply the result obtained by 2 to get the correct triglycerides value.
Glycerol contamination in glassware leads to erroneous results.
Care should be taken not to touch reagent and samples with fingers, especially after applying hand lotion which may contain glycerine.
QUALITY CONTROL
To ensure adequate quality control, it is recommended that each batch should include a normal and an abnormal commercial reference control serum. It should be realised that the use of quality control material checks both instrument and reagent functions together. Factors which might affect the performance of this test include proper instrument function, temperature control, cleanliness of glassware and accuracy of pipetting
Trade Information
packaging : Empity

Australia, North America, South America, Eastern Europe, Western Europe, Middle East, Africa, Asia, Central America
All India

certification : iso
Contact Us
212, Udyog Mandir No. 17/C, Bhagoji Keer Marg, Mahim, Mumbai, Maharashtra, 400016, India
Phone :+918045479256