Turbilatex CRP Infinite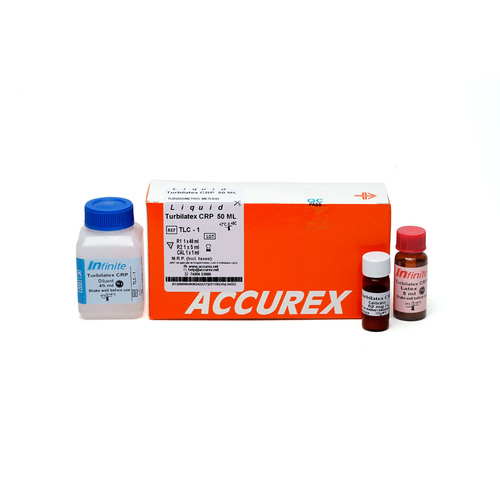 Turbilatex CRP Infinite
Price And Quantity
Product Specifications
Biochemistry reagent

Other
Infinite Turbilatex CRP is a two liquid reagent system using one step procedure. Infinite Turbilatex CRP can be determined in just 2 minutes. Infinite Turbilatex CRP is linear upto 160 IU/ml.

Other
Biochemistry reagent

other
Industrial Lab Chemicals

99%
Product Description
INTRODUCTION
Infinite Turbilatex CRP is a reagent set for quantitative determination of Rheumatoid Factors (RF) in human serum based on Turbidimetric method.
Infinite Turbilatex CRP is a two liquid reagent system using one step procedure.
Infinite Turbilatex CRP can be determined in just 2 minutes.
Infinite Turbilatex CRP is linear upto 160 IU/ml.
Infinite Turbilatex CRP can be used on any Spectrophotometer, Discrete semi-automated and automated analyzer.
PRINCIPLE

Infinite Turbilatex CRP contain latex particles coated with human gammaglobulin which reacts with RF in the sample resulting in agglutination. Agglutination causes change in absorbance, measured at 650 nm (600 - 650 nm) & is proportional to the concentration of RF in the sample.
PREPARATION OF WORKING SOLUTION
Swirl the latex vial gently before use and prepare working solution by mixing Reagent R1 and Reagent R2 in the ratio 9 : 1 as per the requirement.
Lyophilized calibrator should be reconstituted by adding 2.0 ml of distilled or deionized water. Dissolve the contents of the vial by swirling gently to avoid the formation of foam. Do not shake. Let stand for 20 minutes at room temperature before use.
REAGENT STORAGE, STABILITY & HANDLING
The reagent kit should be stored at 2 - 8 degree C and is stable till the expiry date indicated on the label. It is recommended to store the reagents at 2 - 8degree C. tightly closed after use.
The working solution (9R1 + 1R2) is stable for 30 days at 2 - 8 degree C.
DO NOT FREEZE THE REAGENTS. Frozen Latex or Diluent could change the functionality of the test.
Contamination of the reagents should be strictly avoided. Reconstituted calibrator is stable for 1 month at 2 - 8 degree C or 3 months at - 20 degree C.
COMPONENTS & CONCENTRATION OF WORKING SOLUTION
R1 Tris buffer

15 mmol/L

45 ml

R2 Latex particles coated with Gammaglobulin

5 ml

R3 : RF Calibrator (Value mentioned on vial label)

2 ml
SPECIMEN COLLECTION & PRESERVATION
Fresh serum sample is preferred. Samples with presence of fibrin should be centrifuged before testing.
RF in serum is stable for 7 days at 2 - 8 degree C and for 3 months at -20 degree C. Sample should be brought to room temperature before use.
Do not use highly haemolyzed or lipemic samples.
PROCEDURE
Reaction type: End-Point
Reaction time: 2 mins. at 37 degree C
Wavelength

650 nm
Flowcell temp.: 37 degree C
Zero setting with

Reagent Blank
Sample volume: 7 yl
Working solution volume (9R1 +1R2)

1.0 ml
Linearity

: 160 IU/ml
I Calibration Curve (Multipoint calibration)

Prepare the RF calibrator dilutions in normal saline as stated in the following table. Multiply the concentartion of the RF calibrator by the corresponding factor stated in the table to obtain the RF concentration of each dilution.
Calibrator dilution

1

2

3

4

5

6

RF Calibrator(pt)

Normal Saline (fii)

100

10

90

25

75

50

50

75

25

100

-

Factor

0

0.1

0.25

0.5

0.75

1.0
Single point calibration (Linearity upto 100 IU/ml)
Prepare the RF calibrator dilution as : 30yl RF Calibrator + 70/zl normal saline. Multiply the concentartion of the RF calibrator by 0.30 to obtain the RF concentration of the diluted calibrator.
II. Manual Assay Procedure
Reagents

Blank

Calibrator

Sample

Working Solution Normal Saline

Calibrator/Sample

1.0 ml 7 yl

1.0 ml

7 yI

1.0 ml

7 yl
Mix & read the absorbance after 2 minutes.
For multipoint calibration use all the 6 calibrator dilutions, while for single point calibration use only one diluted calibrator as stated above.
CALCULATION :
Calibration Curve
Plot the absorbance obtained for each calibrator dilution against the respective RF concentration. RF concentration in the sample is calculated by interpolation of its absorbance in the calibration curve.
Single point calibration
Conc. of diluted Calibrator
Factor
Absorbance of Calibrator
RF (IU/ml) - Absorbance of Sample x Factor
Expected range varies from population to population. It is therefore recommended that each laboratory should establish its own normal range.
PROCEDURE LIMITATIONS
Linearity limit: If the RF concentration exceeds 160 IU/ml, dilute the specimen with normal saline and repeat the assay. The result obtained should then be multiplied with the dilution factor to obtain correct RF concentration.
Detection limit: Values less than 6 IU/ml give non-reproducible results.
Prozone effect: No prozone effect was detected up to 800 IU/ml.
Bilirubin (20 mg/dl), hemoglobin (10 g/L) and lipemia (10 g/L) do not interfere.
QUALITY CONTROL
To ensure adequate quality control, it is recommended that each batch should include normal and abnormal commercial reference control serum. It should be realised that the use of quality control material checks both instrument and reagent functions together. Factors which might affect the performance of this test include proper instrument function, temperature control, cleanliness of glassware and accuracy of pipetting.
Trade Information
EXW ABPL

Paypal, Cash Against Delivery (CAD), Letter of Credit (L/C), Letter of Credit at Sight (Sight L/C), Cash in Advance (CID), Cheque
All India

certification : iso
Contact Us
212, Udyog Mandir No. 17/C, Bhagoji Keer Marg, Mahim, Mumbai, Maharashtra, 400016, India
Phone :+918045479256